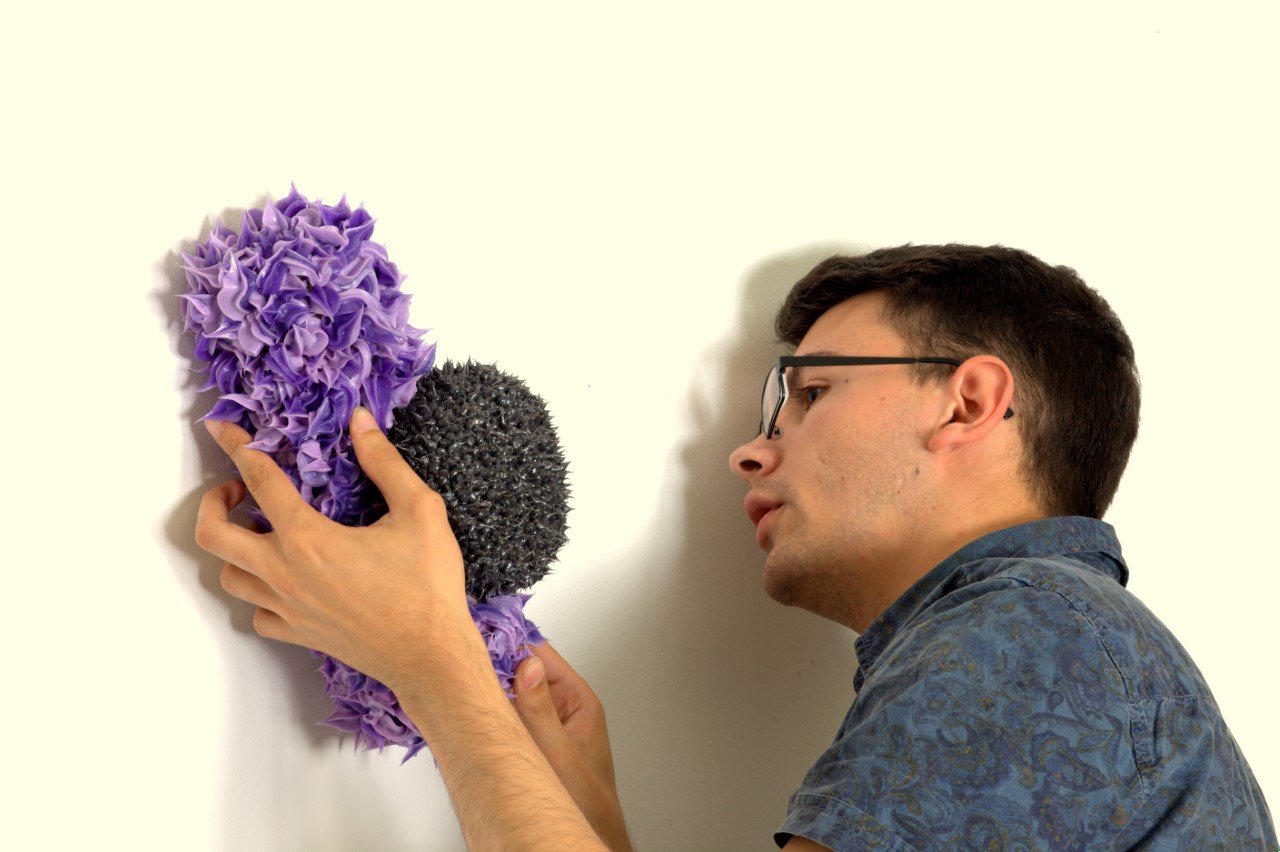 "My practice is to investigate the materiality of paint and how it can be manipulated and push through a variety of processes"
Ciaran Bowen is currently based in Co. Wexford. He achieved his BA Honours in Fine Art from Wexford School of Art and Design in 2015. He was awarded in the same year the Carlow Institute of Technology Purchase Award, which one of his degree pieces hang in their permanent collection in Carlow IT, Wexford.
During 2015 he was featured on the Irish Arts Review in their New Generation of Artists. Bowen has exhibited his work nationally and internationally, (2013) "La Amenaza Constante", Visual Centre for Contemporary Art, Carlow, Ireland. (2017) Peripheries OPEN , PERIPHERY SPACE, The Winter Open (2018), RUARED, Dublin, Ireland.
Since graduation Bowen has exhibited at the Bones & Pearls Studio, London "Touch Me Baby" (2016) which was Curated by Anna Choutova. As well as Curated show "And Creatures Dream… A New Language", A two- venue show at Wexford County Council & Wexford Arts Centre (Curated by Catherine Bowe & Helen Gaynor)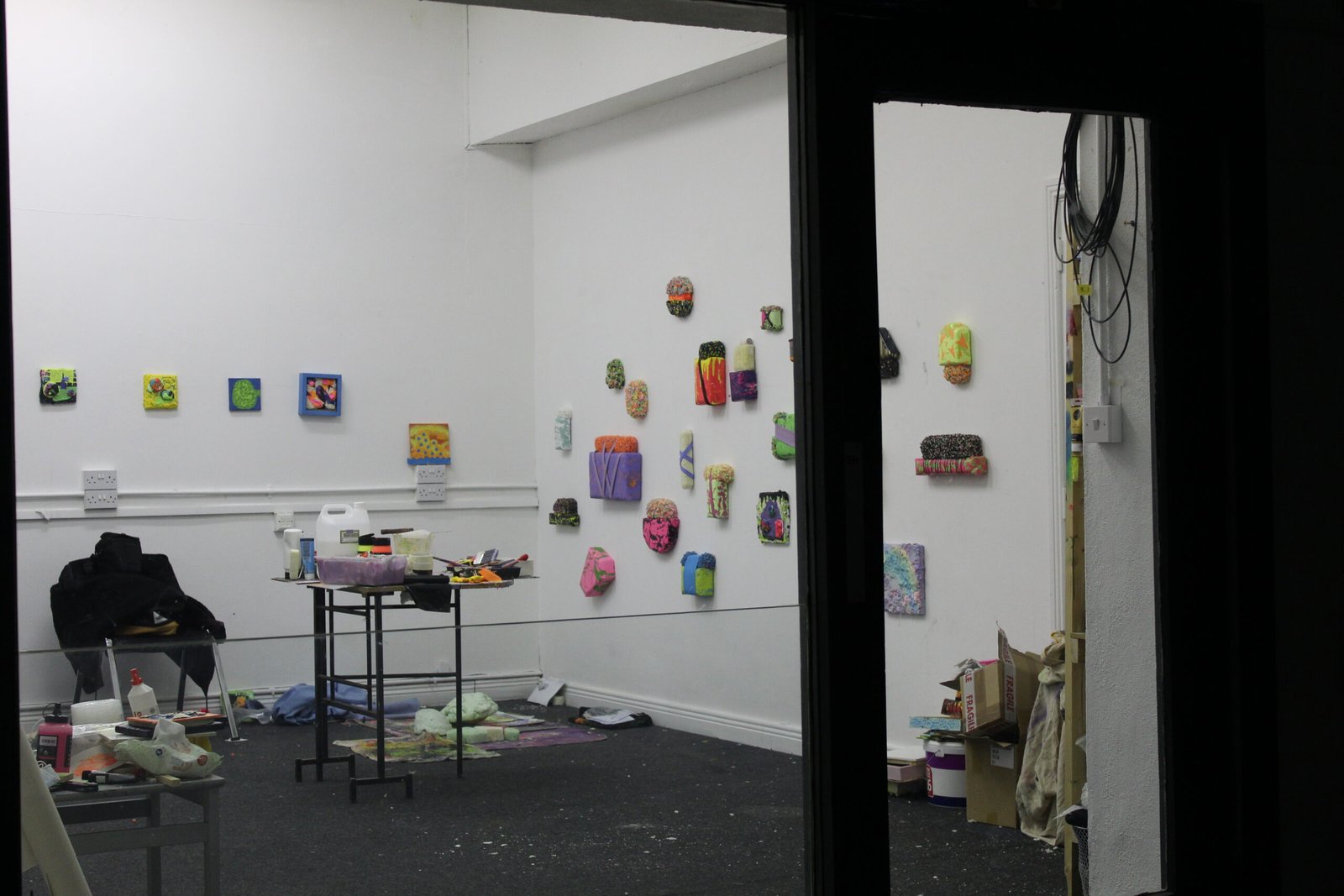 In 2018, He was selected for an eight month residency in The Wexford Arts Centre Annexe studio. He had a two person show "betwixt" (2018) which The Wexford Arts Centre acquired one of his works. In that same year he awarded artist in Residency in the Creative Hub up until 2020.
While his time there, he has been in group shows "Vital Material" (2018) Curated by Mary-Ruth Walsh, Cairde Festival (2019), The Model, Sligo and had his first solo show "Fake Utopia" (2019), The Presentation Center, Wexford. In 2019 during a group show "Material Objects" the Wexford County Council acquired a piece for there collection. In 2020, he was selected to show at the "Beep Painting Biennial" (2020) Cardiff and "Wells Contemporary" (2020) in Somerset.
My work predominantly focuses on the materiality of paint and how it can be manipulated and push through a variety of processes. By combining the paint with industrial materials, it allows the surface of the work to be moved outside the constraints of traditional painting and to oppose the aspect of the four cornered canvas.  
When trying to make paint behave in a way it wasn't designed to do so. It is apparent that trying to control and shape and the composition of the work can be often hectic. It is not only about the surface of the work but the interplay of materials/ forms and how they intersect.
By working with these unstable materials through a process of tentative restraints to establish forms and structures. The original surface of the work becomes clogged and obstructed by the many layers of silicone applied separately to it.
 B.A Honours in Art, Carlow IT Wexford Campus, Wexford
2019 Irish Arts Review Magazine
2016 Dublin Inquirer- Curios About:
2015 Irish Arts Review Magazine- New Generation Artists 2015
2015 Aesthetica Issue 67 October/November 2015, Artists Directory
2020  Beep Painting Prize, Wales, United Kingdom
2020  Wells Contemporary, Somerset, United Kingdom
2019   Fake Utopia, The Presentation Center, Wexford, Ireland
2019   Cairde Festival, The Model, Sligo, Ireland
2018   The Winter Open 2018, RUARED, Dublin, Ireland
2017    PeripheriesOPEN , PERIPHERY SPACE, Wexford, Ireland
2017    And Creatures Dream… A New Language, A two- venue show at Wexford County Council & Wexford Arts Centre (Curated by Catherine Bowe & Helen Gaynor) Wexford, Ireland
2016    Touch Me Baby, Bones & Pearls Studio (Curated by Anna Choutova), London, United Kingdom
2019 Wexford County Council Acquisition
2018 The Wexford Arts Centre Acquisition
2015 Carlow IT Graduate Purchase