PERFORMANCE ARTIST Day Magee
Day Magee is a visual and performance artist based between Limerick and Dublin whose work invokes queer theory and auto-mythopoesis, extrapolating the subjectivity of the queer sick body and its death drive as navigated through Evangelical Christianity. Operating via stylised rituals in the form of performance-centered multimedia installations, the works hinge upon the processes of transubstantiation, the suspension of disbelief as charged by the witness of the audience.
Day Magee is a performance and visual artist and singer-songwriter based between Limerick and Dublin. Since 2011, they have performed as part of live art organisations such as Livestock and the Dublin Live Art Festival, before pursuing a BA in Sculpture & Combined Media in Limerick School of Art & Design in 2017. They are a cofounder of the Limerick-based live art collective Evil, staging performance-based events and workshops outside conventional gallery settings.
"Do not, as some ungracious pastors do,
Show me the steep and thorny way to heaven,
Whiles, like a puffed and reckless libertine,
Himself the primrose path of dalliance treads
And recks not his own rede."

-Ophelia, 'Hamlet', W. Shakespeare
Much of Magee's work has converted the developmental role of religious childhood trauma, and its artefacts of shame and internalised homophobia, in the queer sick body. Thus, their practice begins in response, their experience is a dynamo, and the subsequent, ensuing emotional inferiority is the well from which their practice draws. From memory and psychoanalysis, they divine their own history, self-concept, and automythopoesis.
This inner process results in works across a variety of mediums, most of which engage the body as both the instrument and site of expression in a performative manner. Often, these operate as stylised rituals in the form of performance-centred, if not performance-initiated multimedia, interacting with personally totemic imagery and objects in spaces physical and digital, in a ritualistic format charged by the witness of the audience. This hinges upon transubstantiation, giving way to the viral transmission of ideas via the suspension of disbelief."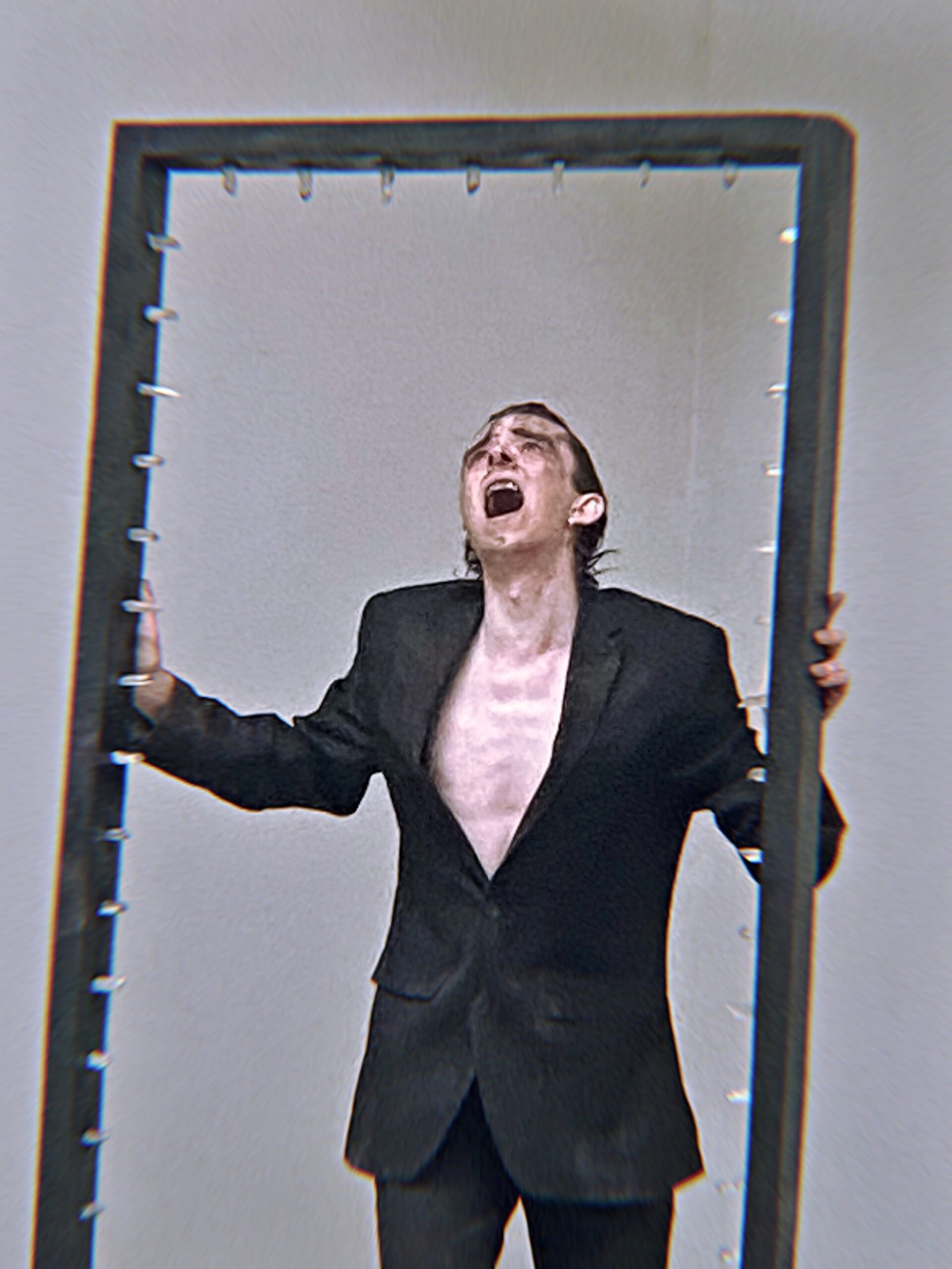 'Keening-Garden-Door', Day Magee, Sculpture, 2020
"Magee is a multidisciplinary artist, working across drawing, performance, video, photography, and an artist whose process is as interesting and as significant as the work itself. To fully understand the work, we need to think through the process.
The materials used for the work are listed as 'a dead copy of the syphilis virus, sandpaper, faeces, blood, dead skin cells, opioid lozenges, condom, pins, tissue, acrylic, pastel, charcoal, chalk.' The mix of traditional art materials and bodily by-products are not apparent on first seeing the work. The list of materials is ended with 'Sandpaper primed using the naked body.'"
– Martin O'Brien
'Ophelio', Day Magee, 2019
BA Fine Art, Limerick School of Art and Design, specialising in Sculpture & Combined Media.
"OUTlines" at OneArtSpace in Manhattan, June 2019. [Work: video portrait "Ophelio"
"The Queeratorial" at Pallas Projects Studios, June 2019. [Work: performance/sculpture "The Male Keening"]
Tulca Festival 2019 in Galway. [Work: "Keening Garden Door"]
Put forward for Future Generation Art Prize 2020 by Pallas Project Studios