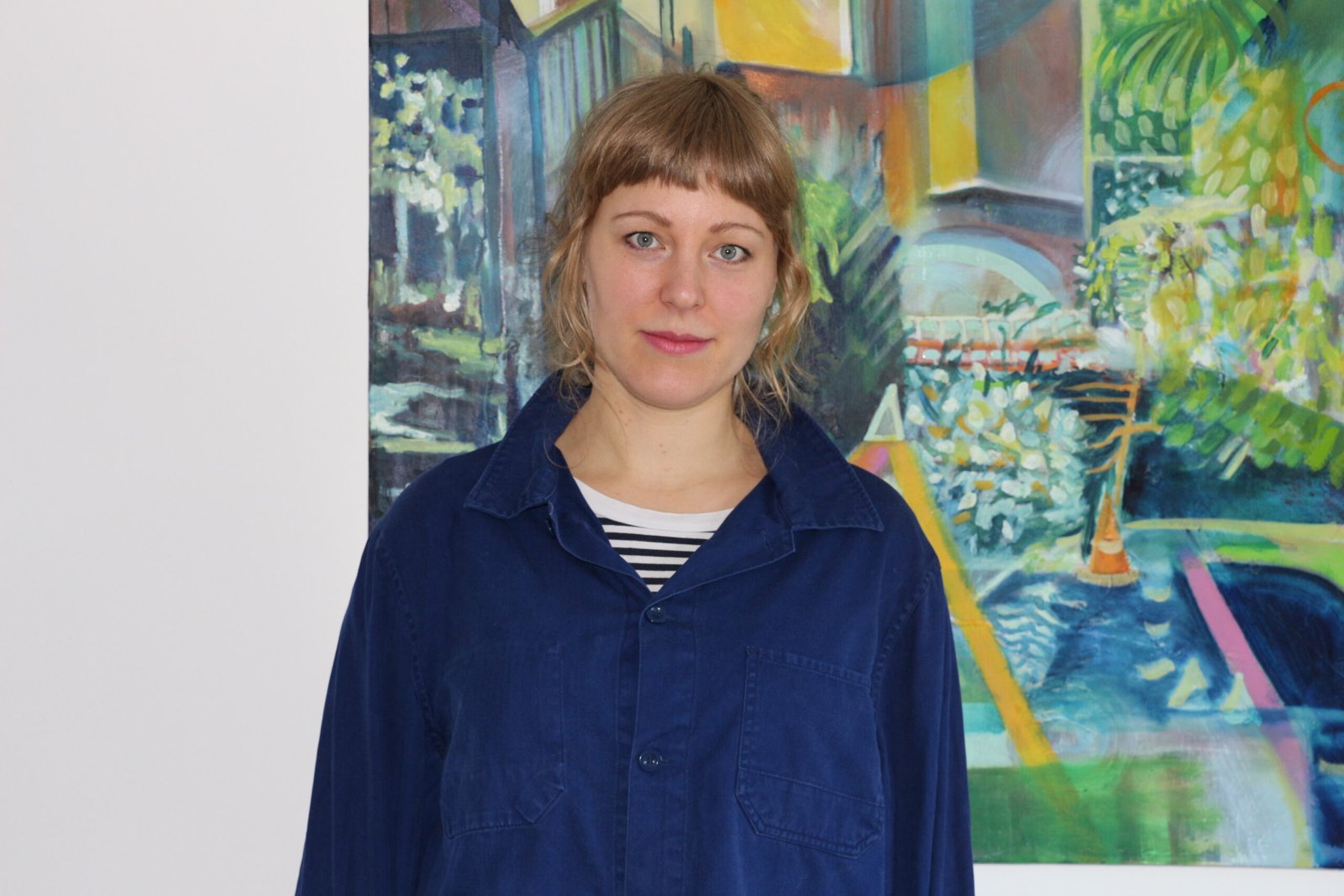 The painter Linda Schliebitz was born in Germany and moved to Ireland as a child. She lived in London for over ten years and is currently based in Hebden Bridge, West
Yorkshire. Her paintings are colourful, expressive depictions of abstract or semi- abstract  worlds. Often Schliebitz' scenes convey a sense of an impending shift. Thematically she is attracted to the notion of impermanence, flux, the dichotomy of order and chaos and paint itself. 
Linda Schliebitz was born in Germany and moved to Ireland as a child. Indebted to both  countries, she found her artistic formal language in Ireland, studying painting in the  Crawford College of Art and Design in Cork. The cultivated Irish landscape and its dramatic skies inspired Schliebitz to create abstract landscapes.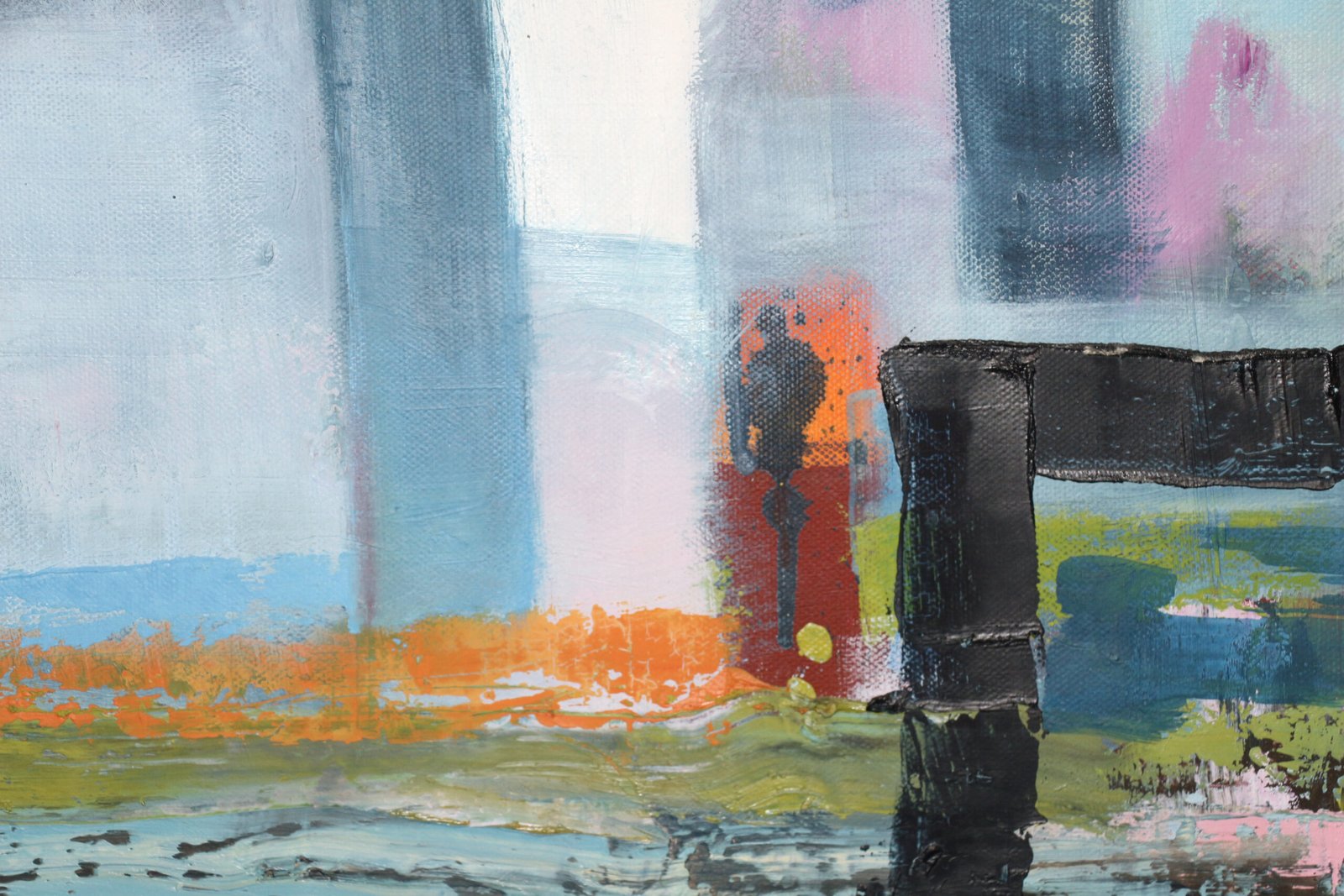 'Der Starke Wanje', (Detail) Lindl Schliebitz,
Oil on Board, 2008
Schliebitz left Ireland for London in 2007. She painted in her studio in Dalston for two  years, before moving south of the River to Peckham where she painted in the spare room  of her flat. In London Schliebitz' paintings became more dramatic and she began to include references to architectural structures. She completed a series of paintings depicting world's in flux. Schliebitz became increasingly inspired by derelict buildings  and urban decay and began to include figures in her work. 
Conceptually, Schliebitz is among other things, motivated by German Art History with its  expressive routes, as well as contemporary artists who embrace the figurative and celebrate painting, like Neo Rauch, the New Leipzig School and Jonas Burgert.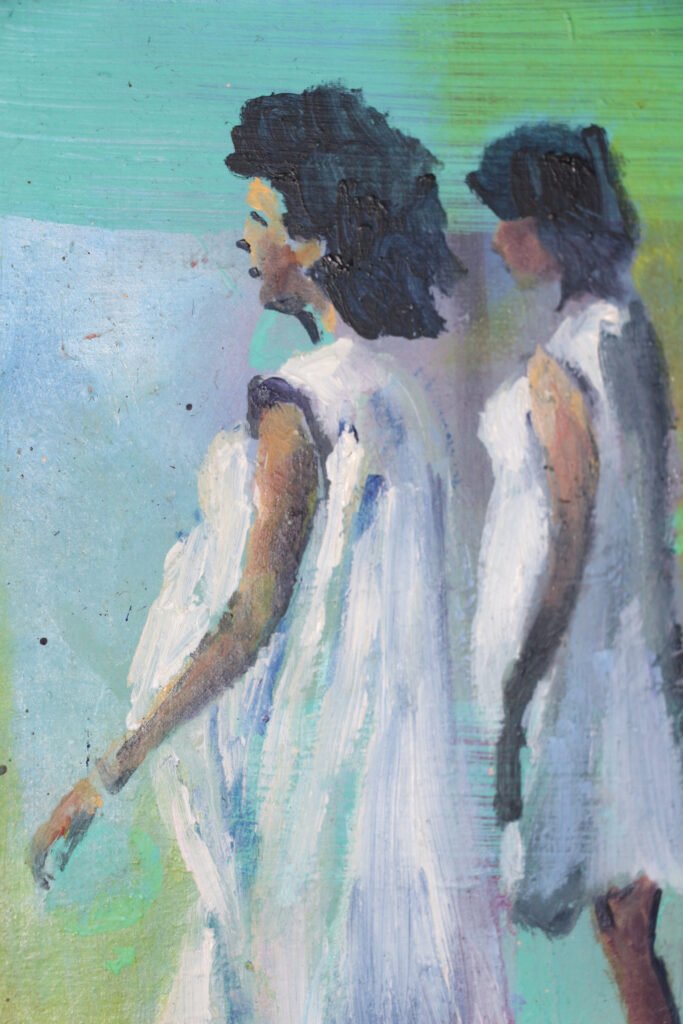 'Women Walking', Lindl Schliebitz,
Oil on Board, 2010
Drawn to academic study, Schliebitz began post graduate studies in Art History in  Birkbeck, University of London. She completed a Graduate Certificate in the History of Art and Architecture with Distinction and followed this with a Masters in the History of  Art, also at Birkbeck. 
Now married with two young children, Schliebitz lives with her family in Hebden Bridge, an old post-industrial mill town in West Yorkshire.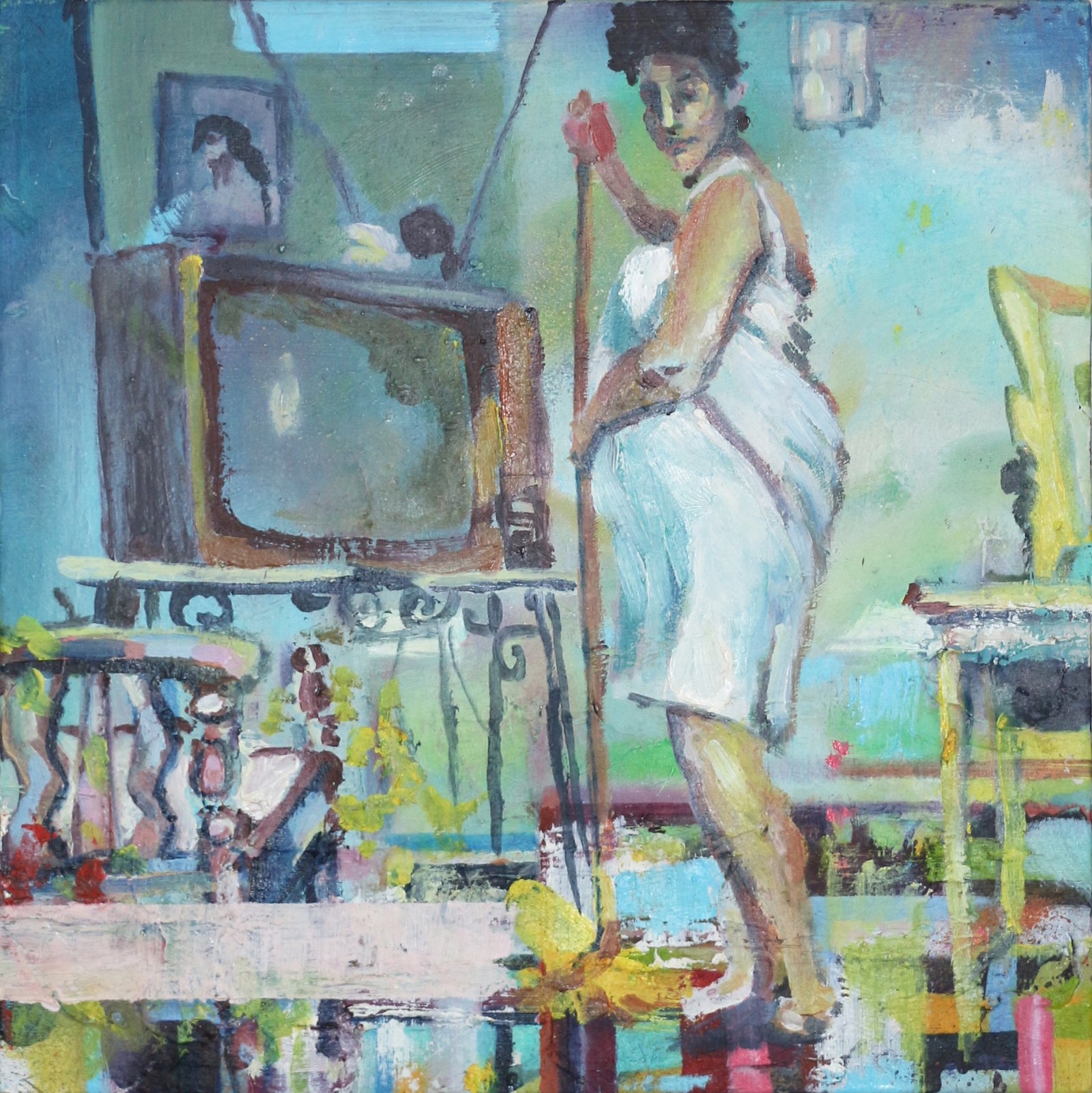 'Woman Sweeping', Linda Schliebitz, Oil on board, 2010
I work with oil paint on canvas or board mostly and identify myself as a painter. I enjoy the creative process with all its challenges, the mess and often hard-won battles. For me  the act of painting, playing with colour and texture, creating form and meaning and interpreting the world in a playful manner is a satisfying process. 
My work often starts in a visceral way. Paint is applied in thin washes and then layered with palette knives, dripped, splashed and occasionally thrown on. After this I try to impose order and the assembly begins, adding figurative aspects or abstract shapes. The picture evolves depicting a dichotomy between order and chaos. It is the balancing act of these that ultimately leads to a finished work. 
Conceptually I am attracted to worlds in flux, impermanence, and a sense of impending shifts. Also, I like the viewer to be reminded of the medium, paint, which I regard as a subject in the work. Beyond that the iconography belongs to the viewer.  
"Security is mortal's chiefest enemy." Studying Macbeth in school, this quote stayed with me. It applies to everyone and society as a whole. It's a reminder not to become complaisant, too arrogant or too sure of oneself. The current pandemic drives this point home. Things we believed to be solid now appear unstable and have been eroded in no time at all. It reminds us stay vigilant and humble.
MA History of Art, Birkbeck University of London.
Graduate Certificate in the History of Art and Architecture, Birkbeck University of London.
BA Honours Degree Fine Art, Crawford College of Art & Design.
Diploma in Fine Art, Crawford College of Art & Design.
Solo show, Unearthed, Old Market-house Art Centre, Dungarvan Co. Waterford, 2003.
Solo show, Woodland Scenes, South Tipperary Art Centre, 2005.
Solo show, You'll find it in the city, Cockleshell Art Centre, Duncannon, Co. Wexford 2006.
Group show, A-Side-B-side Gallery, Amherst Terrace, London, 2012.
Group show, Christmas Exhibition, Old Market House Art Centre, Dungarvan, 2010.
Group exhibition, Junction, Camden High Street, London, 2010.
Group show, Artworks Open 09, Barbican Arts Trust, London, 2009.
Group show,  Absorb Arts, Open Studio Exhibition, Dalston, London, 2008.
Group show, Christmas Exhibition, Lavit Gallery, Cork, 2007.
Group show, Fledgling 07, Lavit Gallery, Cork, 2007.