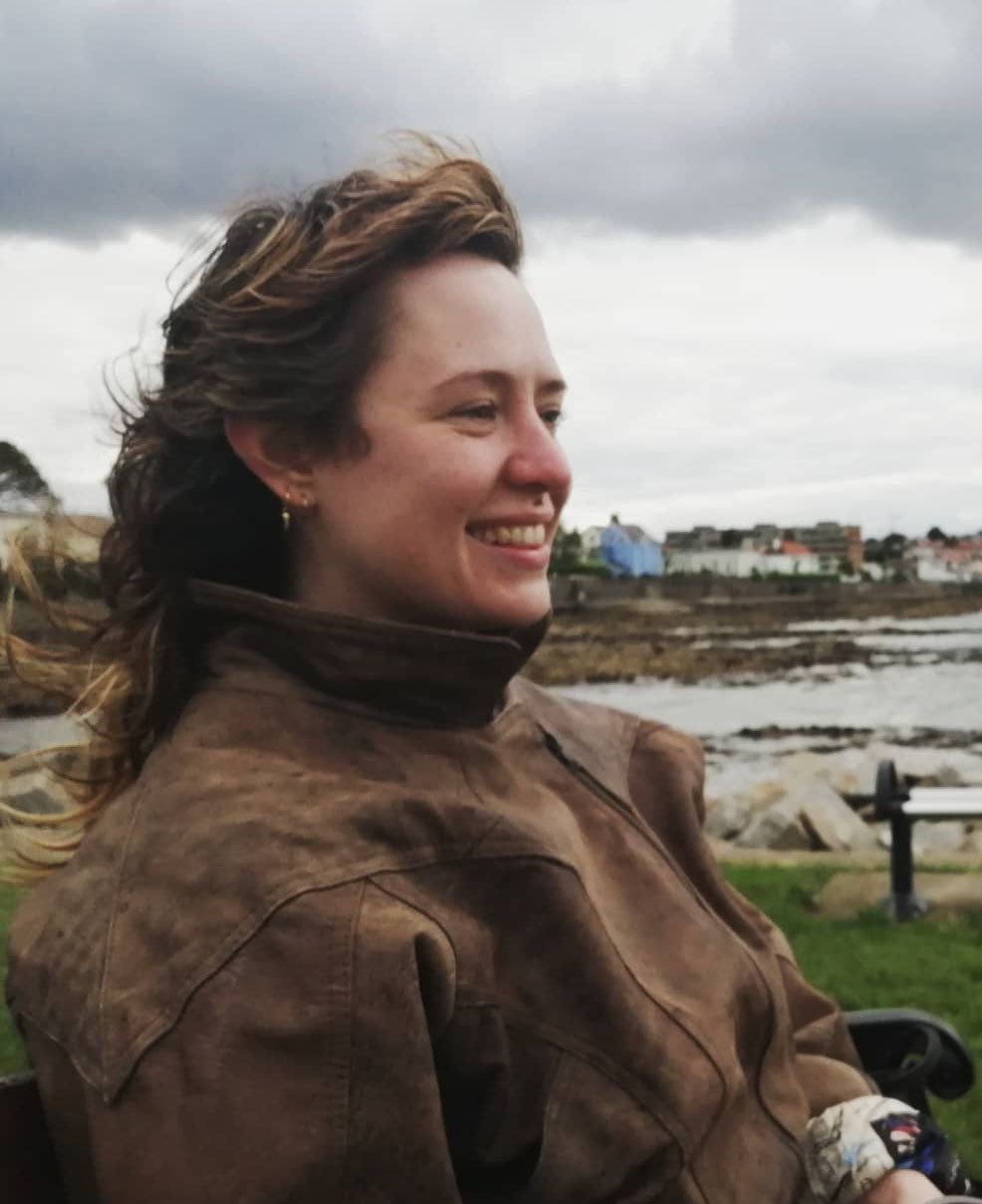 Róisín Bohan is an artist living and working in Dublin. Her 2D drawing and painting works are often vibrant, colourful, expressive and produced from short bursts of energy. This style emerged from an introduction to art therapy in 2018, and for Róisín, this method of working is very therapeutic and meditative. Alongside Róisín's 2D art practice, she has a range of other interests, including Tarot, Curating and Education.
Róisín Bohan is an artist living and working in Dublin. Her 2D drawing and painting work is often vibrant, colourful, and playful, and produced from short bursts of energy. The style you will see on NUA Collective emerged from Róisín's introduction to Art Therapy in 2018, where she rediscovered drawing and painting.
Róisín was born in Reading, England, and grew up in Cork. An only child, she spent some time living with her Grandparents. Her connection with creativity is very much rooted in this time, inspired by her artistic and crafty Grandmother, Joan, who enjoyed painting, crochet, and writing, among many other interests, and who loved to take up new hobbies.
Róisín attended Crawford College of Art and Design, where she received her BA in Fine Art in 2014. Since moving to Dublin, she has continued her education, completing a Masters in Cultural Policy and Arts Management at UCD in 2017, and returning to Crawford in 2019 to complete a diploma in Art Therapy.
Róisín also has many other interests and practices, including other types of sculptural, video and installation work, a curatorial practice, and a recent hobby-turned business: Tarot reading. For Róisín, all of these are interwoven and inform one another.
My 2D work is a combination of drawing and painting – I'm not quite sure what category it falls into. I like to work on the floor, this is where I feel most comfortable. It brings me back to the childlike state of play. Here, I can work on the paper from all different angles, with no set outcome for the orientation. On the floor I surround myself with different materials – pastel, pencils, markers, paint – and grab whatever I feel like in the moment.
I work quickly and intuitively. I try to bypass my thoughts, such as
"Does this look good?",
"What will I do next?",
"Why am I doing this?".
I think and feel through the colours. Colour combinations will form instinctively as I start to work. I think the colours probably emerge in a way that conveys the mood I am in when I sit down to create. I like to surprise myself, and therefore I never have a plan. This is the recipe to produce the work I am happiest with. After creating something, I usually put it away and come back to it weeks or months later. When I look at it then, abstract shapes will have become representational – a face, a tree, a piece of fruit, a clearing – usually nature related.
2019 – 2020    Diploma, Principles of Art Therapy, Crawford College of Art & Design, Cork
2016 – 2017     MA Cultural Policy and Arts Management, University College Dublin
2010 – 2014     BA Honours Degree in Fine Art, Crawford College of Art & Design, Cork
It's Fierce Mild, Launch Pad Gallery, Yokohama, Japan
2015    Central, The Mart, Rathmines, Dublin
2015    It's Fierce Mild, Space Space Gallery, Komae, Tokyo, Japan
2015    One After Another, Monster Truck Studios, Dublin
2015    Girls rooms, Space Space Gallery, Komaeo, Tokyo, Japan
2015    WET, Hive Gallery, Waterford
2015    LEVEL, The Mart, Rathmines Dublin
2014    RDS Student Art Awards Exhibition, RDS, Dublin and Bourn Vincent Gallery, University of Limerick
2014    The Young Ones, Rua Red, Dublin and The Workshop, Sample Studios, Sullivan's Quay, Cork
2014    Bubble Wrap (Recent Graduate Exhibition), Sarah Walker Gallery, The Pier, Castletownbere, Co.Cork
2014    Na hOibreacha (The Works), Crawford College of Art & Design, Cork
2014    A Performance Caravan, Sample Studios, Sullivans Quay, Cork
2014, Monster Truck 1 Year Studio Award is assoc. with the RDS Student Art Awards