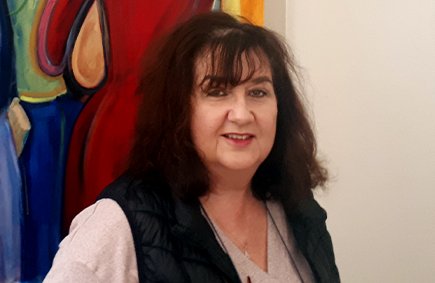 "O Neill's brushstrokes have a fluidity, a suggestive touch"
Niall MacMonagle
Sunday Independent, May 2020
Through the media of paint and mixed media my work explores the concept of Environment.  Responding to the impact of a changing climate on the earth's landscapes, my latest work also responds to the new normal.
Irene O Neill has a background in Graphic Design, quality and training. She returned to Education as a mature student through NCAD's CEAD, continuing education in Art and Design. Having completed a Certificate and Diploma in Visual Arts Practice she then went on as a full time student to complete a BA in Fine Art Paint, graduating in 2019.  O'Neill then joined BKB studios in Dublin where she is a member to this day. Working mainly in paint and drawing. O'Neill has also attended the RHA Gallery school completing modules in Drawing and Figurative Painting. Some of her work is in private collections.
I like to work with colour and keep reference notebooks. Working from found photographs and my own source photographs, I sometimes digitally enhance a photograph to lose the detail, and to find a source of inspiration within that photograph. I like to use viewfinders, often using these to look at my own studies in closer detail, finding more possibilities to paint.
My work can be abstract or figurative, but what combines the two is colour and landscape. While some of my work looks at the environment we are living in and the effect of global warming, other work observes how we occupy the space within that environment and respond as humans to the world around us. Global warming is perhaps the biggest threat to our species and the destruction of our planet and loss of animal species is a huge interest of mine. I am interested in group dynamics, how we relate to each other as humans; how our world of communication has changed by the use of social media. I am interested in the human landscape and how use the space we occupy as human beings.
Some paintings are inspired by collage. Collage gives me the freedom to create imagined spaces, a recurring theme within my work.
Before I construct a painting I produce smaller studies on paper and look at composition and colour before going to the canvas. Organisation and recording of palettes is key, but at times I paint intuitively. I love colour and have always been fascinated by how colours change and are perceived in different lighting situations.
The viewer is invited to invoke an emotional response to changing landscapes of the planet caused by global warming and climate change.  Atmospheric and vibrant landscapes are created with expressive mark making.  As the paintings evolve the palette may change from hot to cool reflecting the constantly changing conditions of the planet. My paintings do not reference recognisable forms but rather they deconstruct the landscape shifting the meaning and interpretation.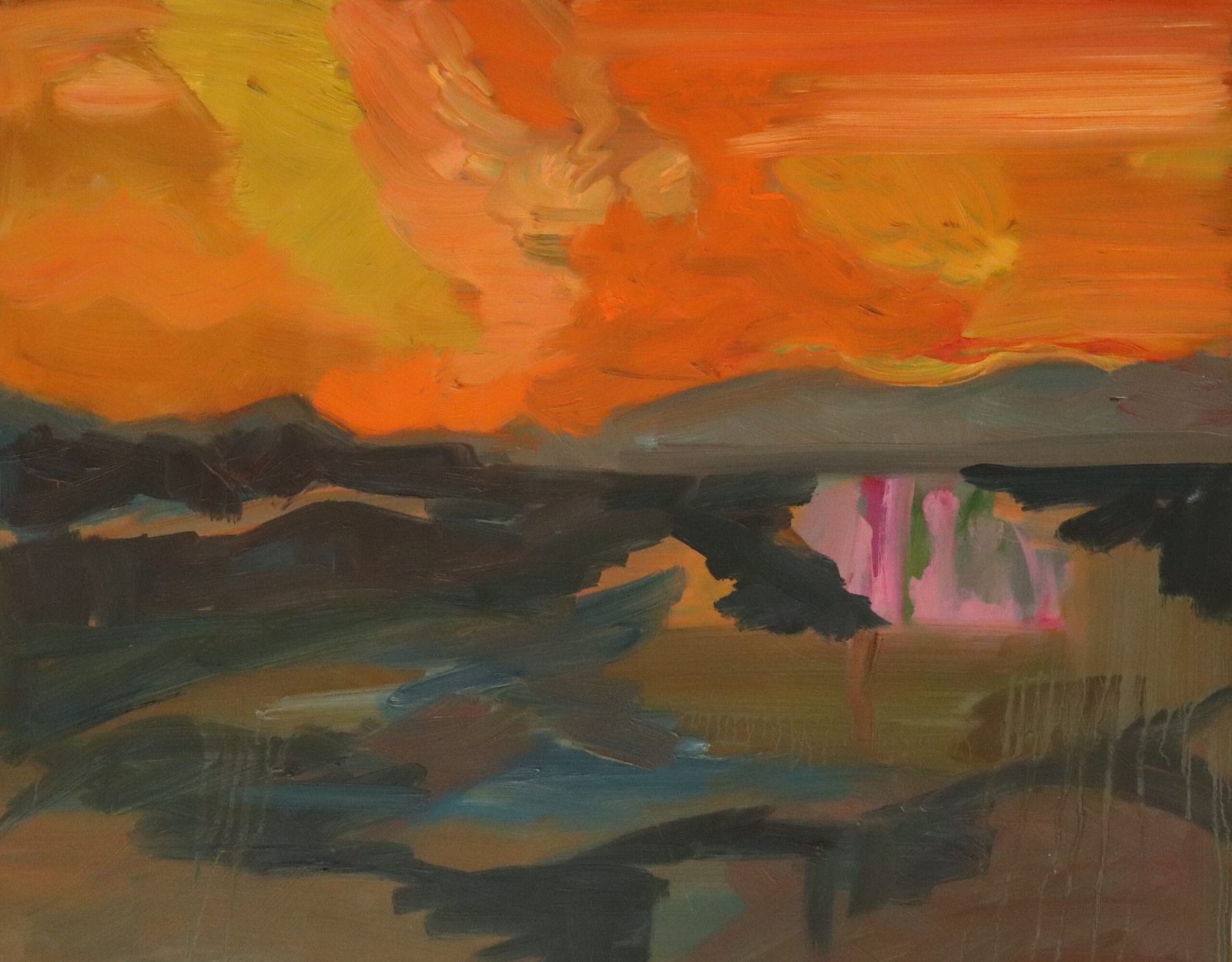 'An Imagined Landscape Australian Destruction',  Irene O'Neill, Oil on wood panel, 2019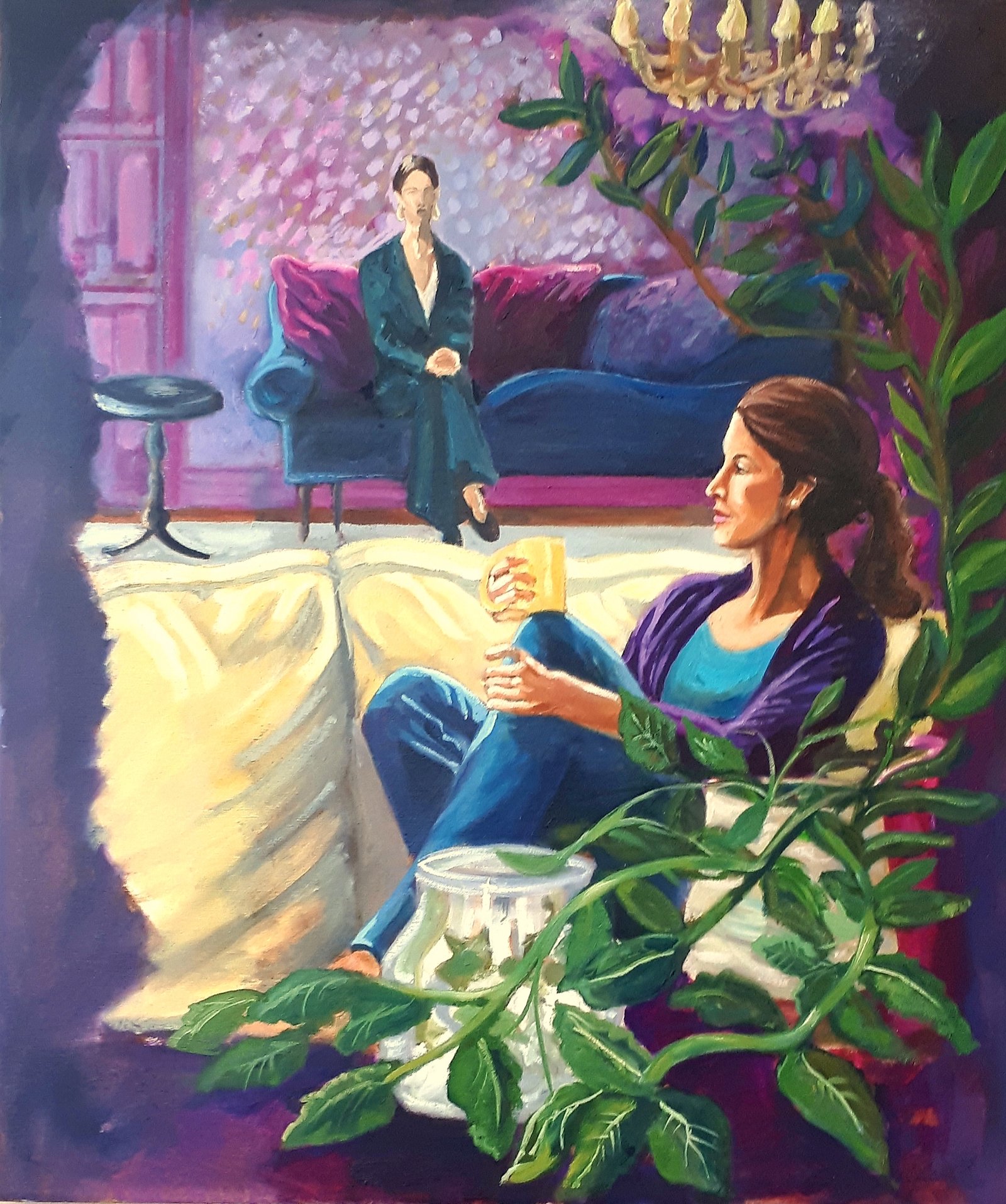 Further paintings, some based on collage, are figurative in structure and invite the viewer to enter a series of imagined spaces and to ponder on the spaces created, while reflecting on notions of home, the new normal and a changed environment.
My influences are Manet, Caroline Walker, Diebenkorn, and Hockney.
← "Lockdown Ladies at Home", Irene O'Neill, Oil-on-Canvas, 2019
2019 BA Fine Art Painting, National College of Art and Design.
2016 Diploma Fine Art, CEAD, National College of Art and Design.
1986 Diploma Art in Industry and Commerce, DIT, Dublin.
Winter open Exhibition. Courtyard Gallery and Studios Ennistymon.  December 2020 – Jan 2021.

Artnet DLR – Exhibition online 'Transition'. Spring 2021

2020 'Hindsight 2020' Rua Red Winter Open, Tallaght, Dublin. – Painting 'And the Forest Heals' Exhibition December 2020 to January 2021.
2020 'Between You and Me' CIACLA Contemporary Irish Arts Centre LA, USA.  A series of online and in person events promoting Contemporary Art and Culture from leading Irish and Los Angeles based artists. August 2020 to February 2021.
2020 Art Net DLR, Dublin, Ireland. Autumn online Exhibition theme 'Water'.
2019 'Emerging Artists Exhibition', St Patricks University Hospital, Dublin in conjunction with NCAD (Two paintings selected for the hospital's private collection).
2019 'Ideologies' Group Show, Gorey, Wexford. Curator David Monaghan.
2019 NCAD Degree Show, BA Fine Art Paint, NCAD, Dublin 8
2018 Topopophilia , Temple Bar Gallery, Dublin.
2018 New Age, Creative Life Studio, MISA, St. James Hospital, Dublin.
2018 Crimes of Passion 11, Margaret Clarke Gallery, NCAD, Dublin.
2016 End of year Group show, CEAD, Design Building, NCAD, Dublin.
2015 North Kildare Artists Summer Show, Celbridge, Kildare
What Lies Beneath Niall MacMonagle
Sunday Independent 24/5/2020