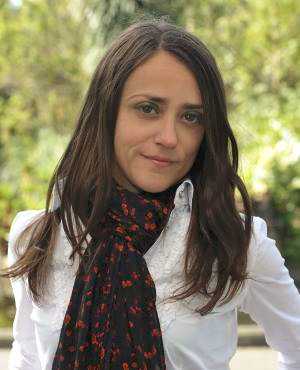 I am a visually impaired visual poet artist from Dublin (originally Italian), a registered member with Visual Artists Ireland and regular contributor to Poetry Ireland and Poetry Day Ireland. I come from a research background in International Relations for Cooperation and Development, with a major in the use of media within politics and international organisations. Documenting reality through storytelling, to explore social issues and uncover social injustice has always been the focus of my poetry. Now this opportunity has been made even more powerful, thanks to the vehicle for empathy that is the camera lens.
She writes poetry both in English, Spanish and Italian with a main focus on documentary topics, Since 2014, when she hosted her first visual art show in Dublin, she started researching on ways to combine her work of poetry with a visual component. She started practicing film photography and learning how to process film and print her images at The Darkroom Dublin, in 2018, right after having got her first film camera. This only a few months after her visual impairment was diagnosed. She embraced film photography as her new form of self-expression to give her poetry a multidimensional perspective, always with an art photography style.
She firstly got published in Italy for her poetry, with her first poem, ironically titled "Frames", which she wrote at the age of 12 years old, and then again in the year 1998 and 2000. Letizia left Italy for work after her masters' graduation, a series of unexpected life events brought her to join the technology industry. A choice that she can now recognize as driven by the great creativity and innovation which have always been her drive in life, and which characterize this area of practice. Even throughout her international professional career, Letizia never stopped writing.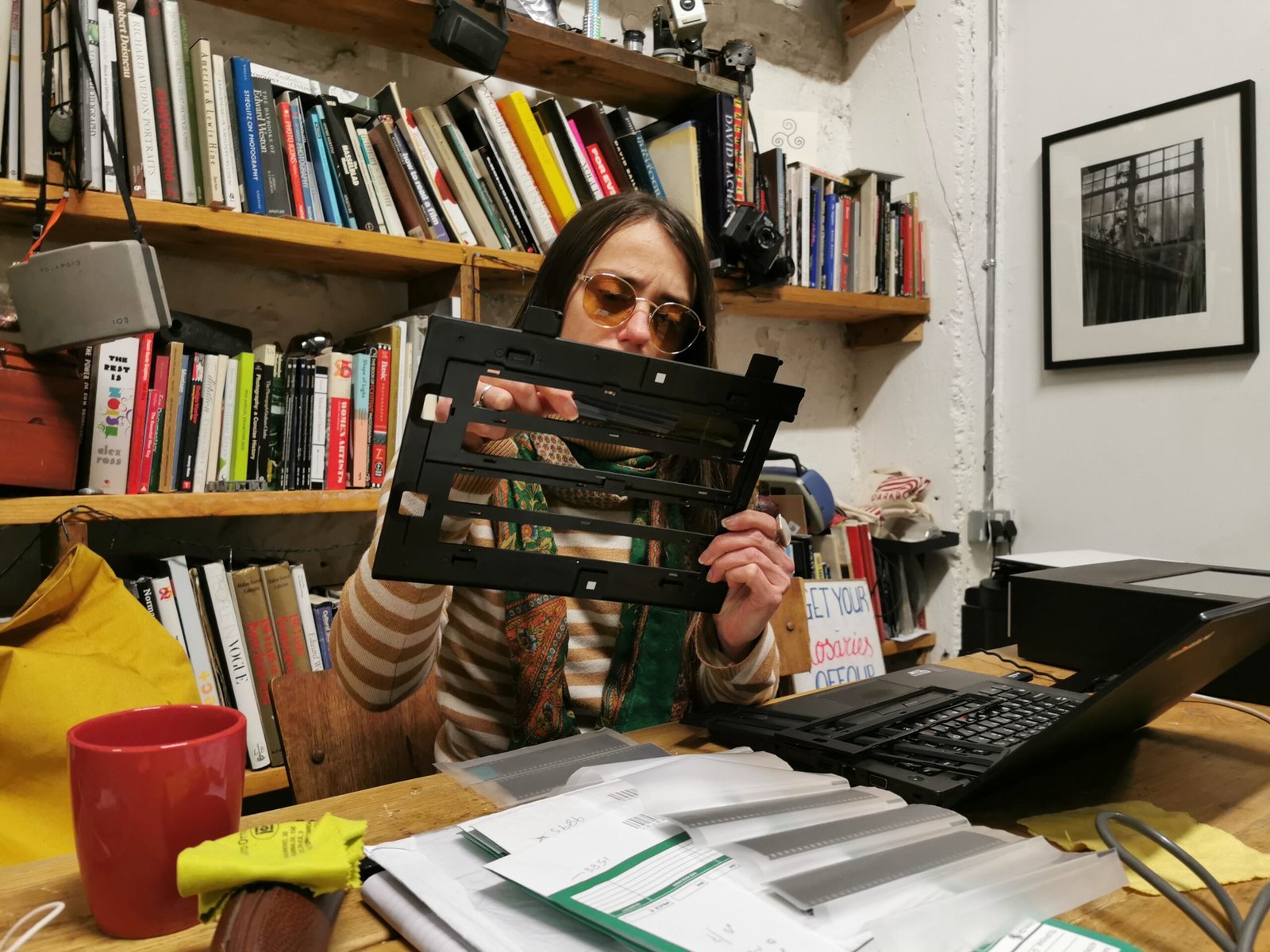 She in fact kept working towards the dream of making of arts and culture, her main career, dedicated to foster social change, social justice, inclusion and equality, as per her field of studies and research. Letizia hosted her first solo exhibition here in Ireland in 2014 at White Lady Arty Gallery, but it has been the diagnosis of her visual impairment three years ago, to guide her to embrace film photography, when almost by chance she got gifted the film camera she is still using.
It took the diagnosis of my visual impairment, almost three years ago now, to get me to silence my mind, and to let my pen, and above all, the eyes of my heart thanks to photography, to guide me where I belong in life, to embrace my most authentic self as a professional artist. This path represents for me not only the acceptance of my visual impairment and a celebration of life in all its aspects, but also and mainly, the complete fulfilment of the mission that I feel all artists have in this world. The mission of being contributing through art, to bring a positive change in society in all ways available to us as creators.
I firmly believe that as artists we come equipped with a high responsibility, the one of communicating hope, of creating connection, of delivering empathy. And so I chose to embrace this life changing condition as the best opportunity for me to finally find my voice thanks to it, to finally not feel scared anymore by my disability.
Looking backward, the forced stop to realign not only my energy but my focus and choices in life, that my disability has represented for me, brought with itself the need to reconsider all my life choices, professional life included. l therefore realised that above all after my dad's passing, I had made of my work life and of my career the safe space that I was deep down longing for but that I couldn't see fit for in my day to day life then.
That safe space in which I could have kept being creative, whilst I was still afraid until the last couple of years, to embrace a professional career as an artist though. I believe my world was placed upside down by my visual impairment diagnosis, to teach me the greatest lessons of all in life, the one that art can heal all wounds if we let it, as I now can see how it got placed back where it should be by it, at the same time.
ARTWORKS BYLetizia Lopreiato
2020 – Artist of the Month, Cassandra Voices, arts and culture publisher, Dublin, Ireland, June 2020
2000 – Premio di Poesia Citta' di Monza (National Poetry Award), winner with two poems featured in written publication and prize catalogue
2019 – Ranelagh Arts Festival, top 5 finalist artists to perform at closing ceremony, Dublin, Ireland
1996 – Premio di Poesia Rotary Club (National Poetry Award), winner with two poems featured in written publication, prize catalogue, and performed live
Visual Arts:
2020 – All Kinds Gallery, 100 selected artists art book publication, Henn's Teeth Gallery and Publisher, Dublin, Ireland
2020  –   "Of Trauma and the exile from self, and the world we once knew …" , The Timelapse project, edited by Frank Armstrong, on-line publication, June 2020
2020  – "That visible invisibility, my Covid 19 photostory from locked down Dublin", PhotoJournalism Hub, London, April 2020
Poetry:
2000 – Premio di Poesia Citta' di Monza (National Poetry Award), winner with two poems featured in written publication and prize catalogue
1996 – Premio di Poesia Rotary Club (National Poetry Award), winner with two poems featured in written publication, prize catalogue, and performed live at prizes' ceremony
Solo Exhibitions:
2020, The Timelapse, solo exhibition of BW extracts from The Timelapse, as part of Dublin Culture Night program, The Darkroom, visual poetry (media: poetry, film photography ), Dublin, Ireland
2014, Dare to Dream, White Lady Art Gallery, visual poetry, Dublin, Ireland
Selected Group Exhibitions:
2020, Culture Night, Photography Group Exhibition, Voodoo Studios Gallery, participated with one visual poetry artwork , September 2020, Dublin, Ireland
2020, Poetry Day Ireland – There will be time, From the Front visual poetry artwork, Dublin, Ireland
2018, Culture Night, The Darkroom group exhibition as part of the Culture Night official program, participated with one film photography artwork, September 2018, Dublin, Ireland
2014, White Lady Art Gallery Winter Show, December 2014, participated with eight Visual Poetry artworks, my poetry illustrated by a peer on acrylic / black and white ink canvas, Dublin, Ireland
Platforms: Selected features:
2020, Workshowgrow, founding members collection, visual poetry extract, "The Timelapse" project
2020, PH Museum, Photography Museum of Humanity, "The Timelapse" project, London, UK
2020, Cassandra Voices, "The Timelapse" project, Dublin, Ireland
2020, Photojournalism Hub, "That Visible Invisibility" documentary project, London, UK
2020, All Cities Are Beautiful, single photo, Berlin, Germany
2020, Massisolation Format project, Format Festival in collaboration with Gallery of Photography, Ireland, single photo, Manchester, UK
2020, Photographers in Isolation, selection of 3 photos, London, UK
2020 Portyphoto, Portobello Photography School Collective, two photos, Edinburgh, UK
2020, January 2020 – present, PG Creative and Cultural Entrepreneurship, Trinity College Dublin
2020, September 2020 – present, Visual Arts, WorkShowGrow, (on-line academy) visual poet artist and founding member, London, UK (https://www.workshowgrow.com/)
2004-2008, MA (Hons) International Relations, Universita Cattolica del Sacro Cuore di Milano, Italy
2006 – 2007, Merit EU Commission Scholarship for MA Degree Dissertation Research Project, Carsten Niebuhr Research Center for Strategic Middle East Studies, Copenhagen University, Copenhagen, DK
2001-2004, BA (Hons) Political St. (Major: media), Universita Cattolica del Sacro Cuore di Milano, Italy
Visual Arts Training
October 2019, Camera-less Photography, Luminograms and film making training with visiting Latvian film maker, Leva Balode, The Darkroom, Dublin, Ireland (one weekend workshop)
October – November 2018, BW Darkroom Photography, The Darkroom, Dublin, Ireland (one month course)
April – May 2018, Intermediate BW Darkroom Photography, The Darkroom, Dublin, Ireland (one month course)