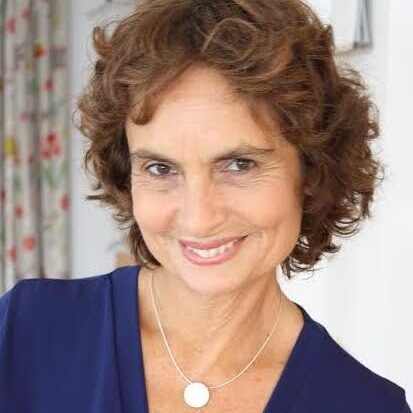 And the challenge remains as a discovery voyage to the universal shape and form and its infinite human expressions
Inspired by Nature's Unique Designs, I have never felt more at home than in the country that welcomed my dreams. Ireland, her sinuous coastline, her amethyst and topaz skies, her turquoise waves and white horses…her pearly dawns and ruby sunsets… A nation of musicians and crafters, poets, fishermen, land worshippers and dream catchers.
My work is very versatile, it has evolved with different materials and techniques and explores a range of media which, to me, is 3-dimensional, and in that sense, sculptural and tactile. Stone and metal are at the core of my exploration, looking to connect with the very basic concept of life and its origins. 
What I continuously struggle with is how to present my work as a whole, without making it Sculpture "or" Jewellery.. or "Art".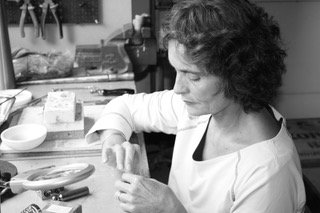 As a sculptor and a silversmith, I sense and feel in a dimensional way and I am forever inspired by life and the natural forces that shape our environment, like time, water, wind, pressure… I am strongly attracted to the natural materials that these forces have produced in their ever evolving geological legacy. My work is filled with life cycle experiences, enriched by the unique people I have shared them with, informed by different cultures and points of view, always pushing its boundaries in search of connection.
From the stone carving process of large marble and limestone sculptures, to the shaping of malleable metals in my relief and repousse work, this passion for form and design has found its expression in  the art of silversmithing of noble metals. From stone sculpture to jewellery, the challenge remains as a discovery voyage to the universal shape and form and its infinite human expressions.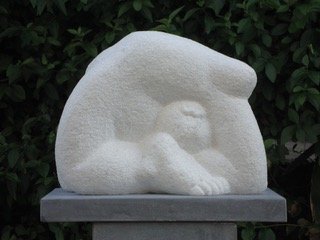 Above: "Media Luna"
Carrara Marble, NFS
2011-2019: Silversmithing, St. Johns College, Cork, (night courses)
---
2016: Stone Setting Workshop, The School of Jewellery
---
2007: BA Fine Art, Crawford College of Art and Design (CIT)
---
2002: Stone Sculpture Apprenticeship. Michael Quane
---
2001: Portfolio course in Colaiste Stiofain Naofa (Cork)
---
2000: Sculpture and Photography, Crawford College of Art and Design
---
1996:  Watercolours,  Adult Education, Douglas Community School
Other Studies:
2000: PhD Linguistic and Cultural Studies, Trinity College Dublin
1995: PhD Research Communication USC,LA
1994: MA Appllied Linguistics, UCC, Cork
1992: BA English, Spanish, Portuguese, UCC
1989: Diploma in Languages, French, English, Arabic, UB Barcelona, EOI Barcelona
The Boathouse Gallery, Christmas 2021 (in permanent display Repousse and Jewellery since 2015)
The Gallery, Carrigaline, Christmas 2021
The Owenabue Arts Collective, 2020-2022
Culture Night 2021, 2017 Art in the park, Carrigaline.
CCD Craft Month 2014-2017
In aid of Alzheimer's Coffee Morning Exhibition, Crosshaven December 2019, 2020.
In aid of RNLI Coffee Morning Exhibition, Crosshaven December 2018.
Tracton Music & Arts Festival, July 2015- 2019, Knocknamangh, Minane Bridge, Co.Cork
Tracton, Christmas Art Exhibition 2011-2020 Knocknamangh, Minane Bridge, Co.Cork
The Lavitt Gallery, work in display 2014-2019
Glucksman Craft and Design Fair 2015,2016, 2017,2018, 2019
Bunnyconnellan, In permanent display, Myrtleville, 2016-2021 Ballymaloo Christmas Fair, 2016
Christmas Exhibition in aid of RNLI, Rincurran Hall, Summercove, Kinsale.2014-2017
Millcove Gallery, Castletownbere 2014
Kinsale Arts Week, (Arts Trail and Walking Gallery) 2012,2013,2014.
Sculpture in Context, National Botanic Gardens, 2009.