"A tacit story teller through three dimensional assemblages in miniature."  "Each (corner) are like a manifestation of the meeting between the truth and imagination"
– Slavka Sverakova 2021
A daydreamer, an introvert and eternal toddler, I am interested in all things magical and make believe. I easily get waylaid into the mythical land where even inanimate objects such as rocks and sticks have human emotions and feelings. I have historically made use of tactile materials to build and create things which act as communication tools and help me make sense of the world.
Growing up as the eldest of two in the 1980's, later finding out I was really the fourth of five, has made me interested in the past, ancestry, secrets and lies. In being so desperate to create something that is truly my own has meant I find it difficult to part with anything. Much of my previous work has emerged from holding on to bits and pieces; physical things, photos or stories. I've recently started using clay on a pottery wheel and I've kept every ugly lump that has come off it so far.
As my work has developed, I have learned to move beyond my own story, taking inspiration from folklore and legends as well as existing human narratives. While taking time to sift through the archives of the Public Records Office of Northern Ireland (PRONI) where I am currently creating a new body of work, I have discovered I have a passion for reading the personal diaries of strangers.
ARTWORKS BY
Oonagh McAteer
Working in studio on 'Sumpy'
Oonagh McAteer's primary conceptual focus is on the subjects and stories that preoccupy her internal discourse. However, more recently she has been influenced by the anthropomorphic characters she encounters in her daily life – one of whom is a rock called 'Sumpy'. Sumpy inspired Oonagh to focus her attention on the immediate area around where she now lives, combining personal stories with local, vernacular tales.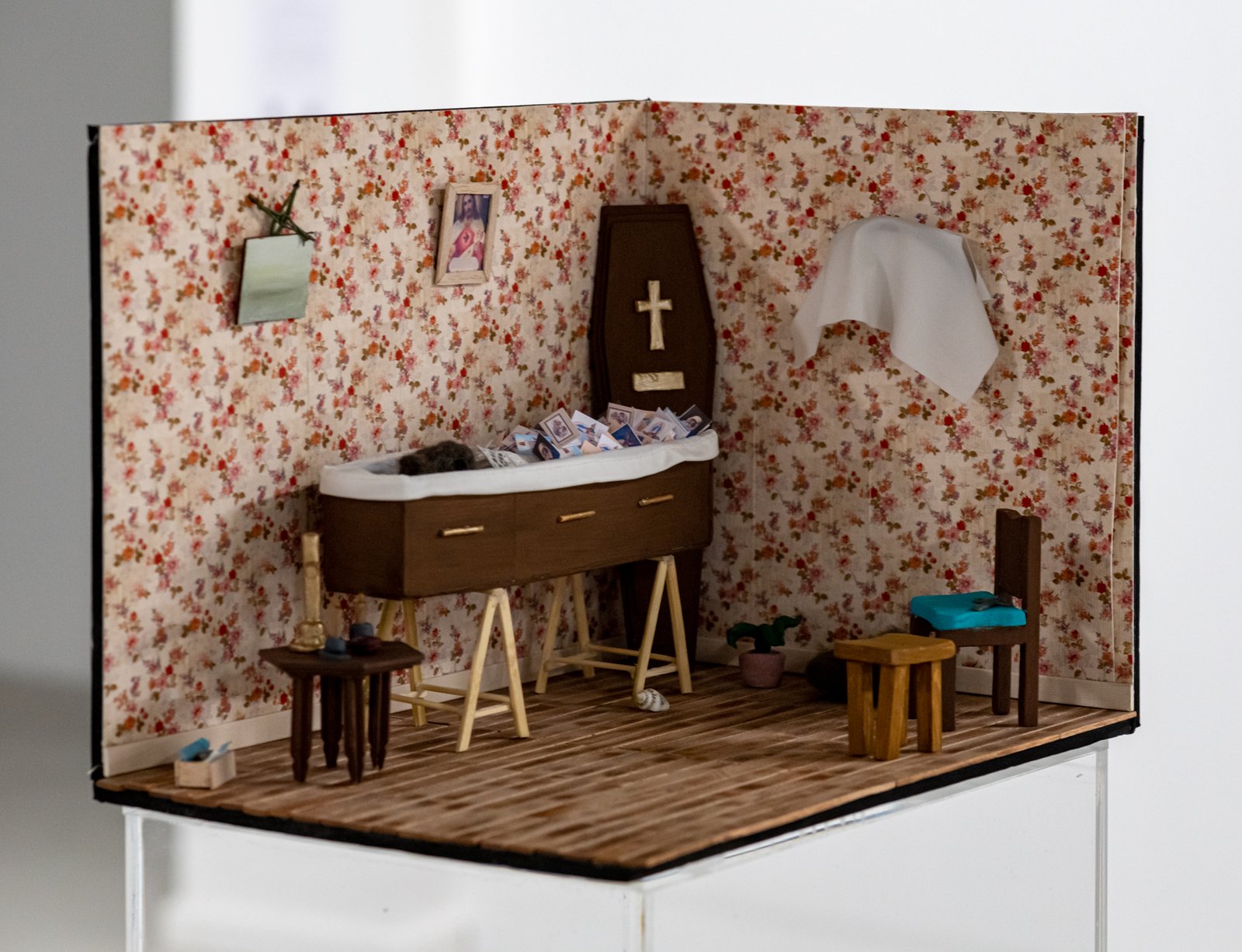 Above: 'The Last Room'
Mixed/found paper, card, wood, 2021
MFA Ulster University with commendation
---
BA (Hon's) Photography with Video with first class honours
---
HND Photography with distinction
Behind the hill, group exhibition, April-May 2022, Public Records Office Northern Ireland, Belfast
Portrait of Northern Ireland: neither an elegy nor a manifesto, group exhibition October 2021, The Golden Thread Gallery, Belfast
Not Here/Here, group exhibition June 2021, Arts for All Belfast, Cityside, Belfast
Here/Not Here, group exhibition May-June 2021, Ulster University Belfast
E-Quadrant, Virtual group exhibition January 2021 Ulster University, Belfast
Ephemera, group exhibition January 2021 The Glass Box Ulster University, Belfast
Continuum, group exhibition June 2019 Ulster University, Belfast
The Afternoon Herald, group publication project as part of Belfast Photo Festival, June 2019, Belfast
Connections, Translink, group exhibition June 2019, Lanyon place station, Belfast
Connections, Translink, group exhibition June 2018 Victoria Square, Belfast
Infinite Yore, group exhibition, June 2018 Ulster Photo Fair, Ulster University, Belfast
Otherkin, Chrysalis, group exhibition June 2017 Millennium Court, Portadown