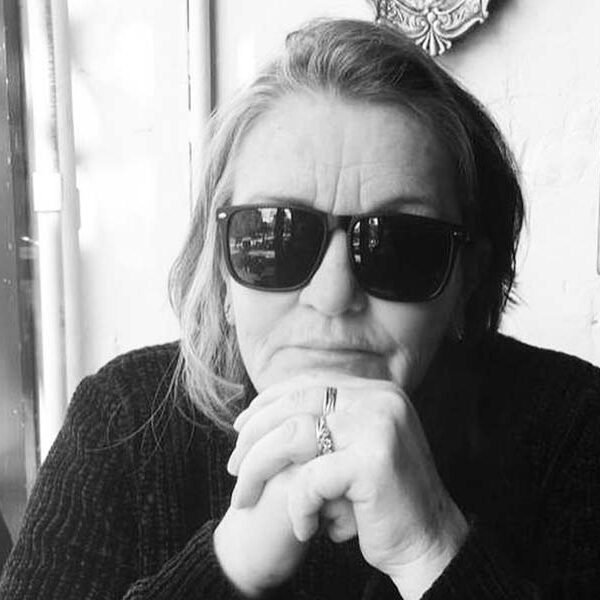 "The lost connection
within the earth, and its energy,
retains a great fascination for me"
I am a multidisciplinary visual artist based in Co. Wexford.
My practice explores themes of sexual and cultural identity that relate to our natural environment.  My work has been shown both nationally and internationally.
Having left behind the Holocene epoch, where nature itself was perhaps its own commander etching out its own masterpieces, we moved on into the Anthropogenic epoch, looking at the marks left by mankind and their effects on our planet. I consider my investigation into the past, ancient ways, and rituals, with a view to finding a better way of existing alongside our environment.
The fragmentation of our ecosystem due to the greed of humanity is of great concern.  Having collaborated on occasion with a diviner, I like to visit ancient sites and ruins, using the art of divination to connect with the earth's energy, getting a sense of 'what lies beneath'.  It is that which remains unexposed, the lost connection within the earth and its energy, that holds great fascination for me.
I am interested in colour, the layering of paint and different forms of mark-making, working intuitively on canvas, board or paper. I also enjoy the more structured process of print-making, the repetitive nature of the work is in keeping with the sense of ritual found throughout my art. I consider photography to be an integral part of my process, and while serving as documentation for the more ephemeral work, images themselves are art.
I am now looking forward to commencing work on future projects, based upon my own experiences of place. Spending time researching and revisiting thin places of my childhood in Tipperary in one project, and collaborating with my son, the poet Ross Walsh, in a Wexford based project. The feminine and the sacred play a significant role in my methodology as I aspire to energise the informative function of art, through the restoration of lost connections within a contemporary framework, from an artistic point of view.
ARTWORKS BY
Anne Martin Walsh
My practice revolves around painting, photography and printmaking, sometimes installed in combination with sculptural elements. Central to this work are themes that relate to our cultural identity and the natural environment. My research involves an examination of geomagnetic ley-lines, ancient sites, Sheela-na-gig and rituals such as divination. I like to engage in quiet conversation with nature, gleaning knowledge from an intimate connection with the elements and then using this experience to produce art which invokes a sense of spirituality and an awareness of ongoing environmental issues. All of these research sources are important in my ongoing inquiries, as I see this exploration as imperative to a way of re-connecting with the earth and creating a new visual language.
I am interested in colour, the layering of paint and different forms of mark-making, working intuitively. The work becomes more about the medium as the painting evolves, allowing a certain ebb and flow while encouraging the plasticity of the paint. Through my work I aim to suggest a state of flux and reciprocity between past and present, earthly and otherworldly, seen and unseen. The art becomes visceral, primal and gestural in its making, with embedded references to a landscape inscribed through the chosen medium.
Through this intuitive work I endeavour to create an alternative way of seeing, evoking a sense of being grounded for both myself and the viewer. A physical and spiritual connection to the earth, as well as an awareness of environmental issues remains at the core of all my artwork.
CIT Crawford College of Art and Design, Cork.  Masters of Art in Art and Process, 2019.
---
IT Carlow, Wexford School of Art and Design; BA Hons (1st Class) Fine Art Degree, 2017.
---
Gorey school of Art, Co. Wexford; QQI Level 6, 2014. (awarded 9 distinctions)
---
Waterford Regional Hospital School of Nursing; Diploma in General Nursing, 1985.
Solo Exhibitions:
March 12 – May 1, 2021: NATURE COLLATED. The Presentation Arts Centre, Enniscorthy, Co. Wexford. Online at:

https://www.presentationcentre.ie/annemartinwalsh.html

January 16 – January 30, 2020:  VIBRATION. Embracing a Higher Connection to Our Planet, curated by Anya Gosseln. Kamera 8, 5 Rowe Street, Wexford.

---

Group Exhibitions:

December 10, 2021 – January 15, 2022: Winter Open Exhibition, The Courthouse Gallery & Studios, Ennistymon, Co. Clare.
December 5 – 2021: Hark! Christmas Special, Hambley & Hambley at Dunbar House, Enniskillen, Fermanagh.
December 2 – December 23, 2021: Annual Artform 44 the Quay Art Exhibition, Waterford.
October 23 – October 31, 2021: Not as We Know It, The Creative Hub, Wexford.
October 9 – October 20, 2021: WEXART 21, Part 1 @office for art, The Creative Hub, Wexford. Curated by Anya von Gosseln.
August 27, 2021 – September, 2021: PLUID – The National Comfort Blanket. The Cowshed Gallery, Farmleigh Estate, Dublin.
August 17, 2021 – October 10, 2021: First International Festival of Manuports, Kunsthalle Kohta, Teurastamo, Työpajankatu 2 B building 7, 3rd floor, FI-00580 Helsinki, Finland.
March 17, 2021: EQUINOX, An Exhibition by Nua Collective. Online at: https://nuacollective.ie/equinox/
January 23, 2021: The Year of Magical Thinking, Dunamaise Arts Centre, Portlaoise, Co. Laoise. Online at: https://artspaces.kunstmatrix.com/de/exhibition/4318561/the-year-of-magical-thinking
January 21, 2021: SEE/ME #ArtInTransition All Participants Slideshow. Online at: https://vimeo.com/502757202
December 14, 2020 – January 14, 2021. The Courthouse Gallery and Studio Winter Open, Ennistymon, Co. Clare and Online at: http://thecourthousegallery.com/online-store?start=96
November 29, 2020 – January 2021: Annual 44 Art Exhibition. Online at: https://theannual44.viewingrooms.com/
November 26, 2020 – : Nua Collective's Premier Exhibition. Online at: https://nuacollective.ie/exhibitions/
August 3 – October 3, 2020: Places We Love, Artlink Members Virtual Show at artlinkonline.ie
July 31 – October 7, 2020: Stories from Lismore and beyond, The Main Gallery, Lismore Castle Arts. Lismore, Co. Waterford
March 20 – May 8, 2020: The 5th Annual Open Call Exhibition, The Presentation Centre, Enniscorthy. Online and in situ.
February 10 – October 5, 2020: HERE TOGETHER: Architectures of Belief  & Rhythms of Ritual.  A collaborative exhibition in Carlow College/St. Patrick's, Carlow.
December 14, 2019 – January 12, 2020:  FORCE/EFFECT/RESPONSE (joint exhibition) The Creative Hub, Main Street/Malin Street, Wexford.
November 23 – December 15, 2019: ARTFORM Annual Contemporary Art Fair, 44 The Quay, Waterford.
October 20 – November 3, 2019: WEX – ART '19, 7 Slaney Street, Wexford.
August 2 – 5, 2019:  EAT 2019. Enniscorthy, Co Wexford.
April 25 – May 2, 2019. Catch 2019. The Nude THE SEA The Muse. Stella Maris Centre, Kilmore Quay, Wexford.
March 15 – May 10, 2019.   The A.O.C. Presentation Centre, Enniscorthy, Co. Wexford.
January 26 –   March 16, 2019:    Open Submission Show 2019. Green Acres Gallery, Wexford.
Awarded an Artlinks Bursary 2020 by Wexford County Council Arts Department.
WCC & WAC Living Arts Project, Artist Residency Programme, 2019/2020
(Assistant Artist).
WCC & WAC Living Arts Project Workshop (Assistant Artist).  April 2019
WCC & WAC Living Arts Project, Artist Residency Programme, 2017. (Assistant Artist).