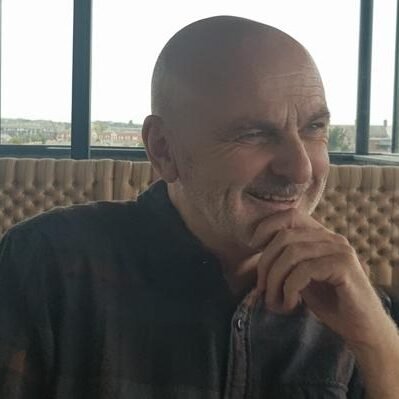 For me, painting is ultimately a personal expression of who the artist is. Looking at my own paintings, I sometimes wonder what I'm trying to say through them. What they tell me is that I'm interested in how people – including myself – act in the world with others, how our own contradictions and struggles, our passions, our likes and dislikes condition our behaviour and shape our world.
I have lived in many countries, but, as the song goes, everywhere you go, you always take the weather with you. So it is that my paintings, whether they reflect my experience in Russia or Spain or China or Indonesia, ultimately reflect who I am and how I respond visually to where I am at any given moment in time. In other words, what you see in my paintings is my take on the world.
I work and live in Dublin. I graduated with IADT and have exhibited throughout the country in various solo and group shows. I was named Irish Print Journalist of the Year for my reporting from Russia with The Sunday Tribune newspaper and hold a PhD in Russian from Trinity College, Dublin, where I am a lecturer with the Russian Department. I facilitated a masters programme in Trinity on Textual and Visual Studies.
One recent strand of my work concerns memory.  
What is memory?  
It is a patchwork of criss-crossing threads made up of feelings, ideas, impressions, colours, remembrances, etc., all drawn from the recesses of the mind and the heart and only loosely tethered to a particular time.  
The past it there, certainly, but so too is the present, the future, together with all the other tenses and moods languages permit (future in the past, present continuous, historic past…) and more still beyond the confines of language, including the imaginative, the invented and the creative. 
The expression of this boundless universe is found in art. 
My work is an attempt to tap into and make manifest this universe.
Above: 'Russia Series Image #1, Workers'
Acrylic on Linen W100cm x H100cm, 2021
2010-11, 15-16: Visiting scholar, Dept. of Painting, Complutense University, Madrid
---
2004-08: BA, IADT (1st class), Dublin, IADT. Award for Outstanding Thesis
---
1992 :PhD. Russian, TCD, Dublin
---
1991: Irish Print Journalist of the Year, Sunday Tribune
---
2013-18: Director of MPhil in Textual and Visual Studies, Trinity College Dublin
www.tcd.ie/langs-lits-cultures/postgraduate/textual_visual_studies/
---
1992-2018: Assistant Professor, Department of Russian and Slavonic Studies, Trinity College Dublin www.tcd.ie/research/profiles/?profile=murrayjd
---
2018-2020: Head of Department, Department of Russian and Slavonic Studies, Trinity College Dublin
2022: Joint show in Customs House Studios, Westport, with Gavin McCrea (April 2022)
2013-14: Broken Country, Upstairs Gallery, Kilkenny
2020-21: Contemporary Irish Arts Center Los Angeles (https://ciacla.com/about/), online exhibition, online,  CIACLA Facebook. Instagram, Twitter and website, (https://www.instagram.com/p/CFE4vH9HWlt/), August 2020-Feb 2021,
2020: Re-vision Performing Arts Festival (online show), www.instagram.com/revisionfestivalbelfast, April
2019: Summer Exhibition, Group show, Courthouse Gallery, Ennistymon, Clare (July-Sept)
2019: Murze (arts magazine, Colour issue), online show, painting featured, June 2015 Horse, Group show, Void, Derry (curators: Mark Wallinger and Maoliosa Boyle)
Irish Print Journalist of the Year for my reporting from Russia with The Sunday Tribune newspaper