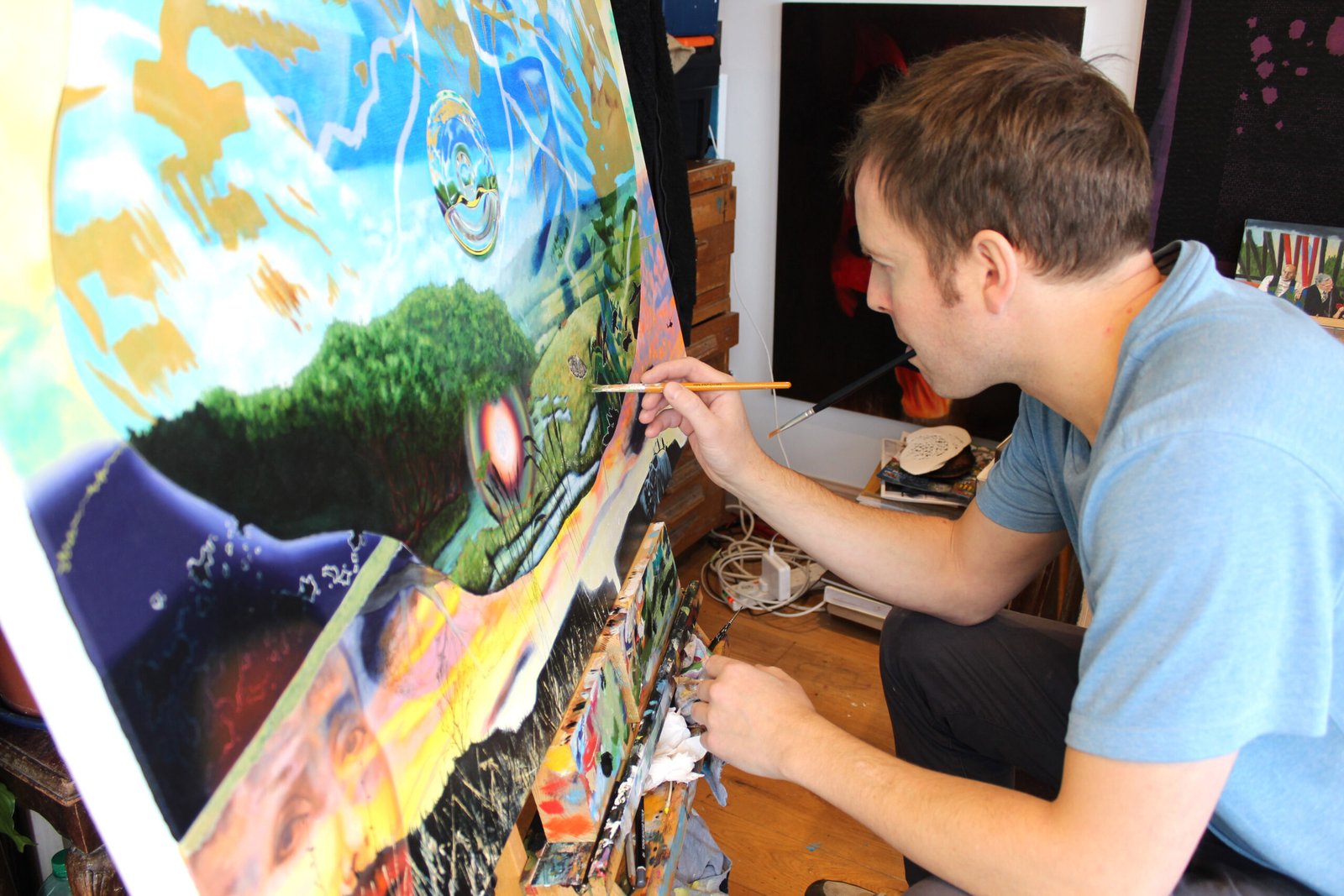 Robert Jackson is an Irish artist who lives and works in Scotland. He was born in Dublin and while growing up moved between Dublin, London, Bristol and Waterford with his family. Ending up living and staying Waterford during his teens was very important to his development as an artist. Waterford's local art scene and inspirational teachers, tutors and friends there including Roger Garbett and Anne O'Regan helped to foster his interests in Art and develop his art practice.
Robert studied Fine Art Printmaking at the NCAD and received his MFA from DJCAD, Dundee. His primary art practice now involves painting, printmaking and emerging digital technologies including CNC milling, 3D scanning and 3D printing. He is a prolific artist and paints daily in his studio in Fife, Scotland. Robert's work is inspired by the people he's met and the places he's visited.
Above: An inside view to Robert's painting studio.
'Lies, the telling of beautiful, untrue things, is the true meaning of Art'
A slight misquote of an Oscar Wilde quote that I believe should finish with 'is the proper aim of Art'. This quote is carved into the side of a turned wooden vessel that was made for me by the Waterford based wood-turner Bruce McDonald. The timber was from a cherry tree from the garden of my childhood house in Waterford. The bowl has always lived in my studio as is now splitting along one side, the quote fractured. Over the years it has become a repository of prints, trinkets and postcards from friends and colleagues. Although a wonderful quote and something to be remembered always, the object's importance lies in the memories of place, people and time.
Initially concentrating on figuration within my practice, I have become intrigued by our sense of place within our surroundings. 
I am interested in using distorted elements of figuration, repeat patterns and patterns from nature to investigate spiritualism, faith, place and belonging. 
The core shapes within my work have figurative origins, sometimes wrapped figures or organic shapes, although these are often distorted and unclear. The shapes and forms within my paintings and sculptures seek to hint at vessels, containers or cocoons.
They occasionally reference the textiles depicted wrapping human forms within old master paintings. These are overlaid or concealed by patterns or broken shapes of abstracted landscapes, aiming to explore the fragments of memories of people and place.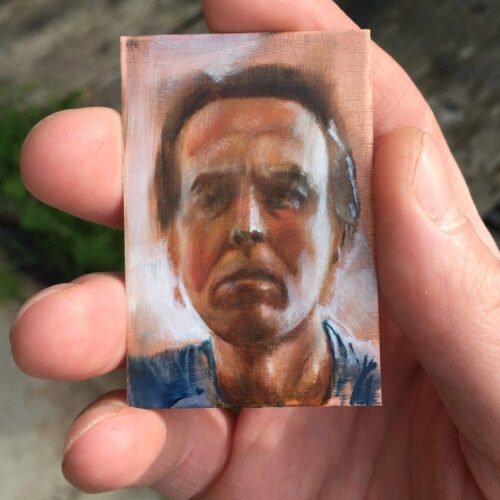 'Self Portrait', Robert Jackson, 2020, Oil on Canvas
ARTWORKS BY Robert Jackson
Creative Scotland Funding (whilst working at DCA Print Studio) to investigate Eye-Tracking as a Drawing medium for Artists with disabilities. https://www.creativescotland.com/explore/read/stories/visual-art/2014/eye-can-draw-at-dca
Dundee Visual Artist Award 2011. To investigate laser cutting in combination with traditional limestone lithography within my own practice.
Highly Commended, Meffan Winter Exhibition 2010
Highly Commended, Angus College National Art Competition 2006
I have previously shown at the RHA and RSA annual exhibitions. I have held a solo exhibition at the Old Market House Arts Centre, Dungarvan and been involved in group exhibitions in Ireland, Scotland, USA, Austria and China. My work is in the collection of the Royal College of Surgeons in Ireland (large painting commission) and The Waterford Healing Arts Trust.
MFA Duncan of Jordanstone College of Art and Design, Dundee, Scotland
BA (Hons) Fine Art Printmaking, NCAD, Dublin, Ireland.