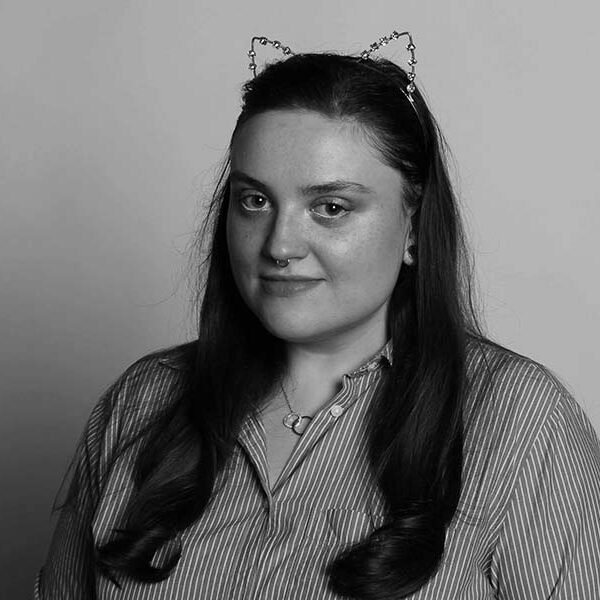 Nature is not disappearing from our backyards. Species are not being lost. We are actively engaged in erasing our natural environment along with the individuals that inhabit it.
It was in kindergarten that a pact was made between two friends to become vegetarians on their 12th birthdays. After nine years, Katrīna made the transition to veganism, and this lifestyle choice has actively informed the work that she makes ever since. Her work is political in nature, as is her existence – a queer, feminist, vegan expat, who lives with chronic pain. Art as activism is the main motivation for her practice. Expressing her concerns with global issues, which are affected by society on an individual scale.
Born in 1993 in Dobele, Latvia, Katrīna Tračuma was enrolled in a Latvian kindergarten in her hometown of Jelgava. She grew up traveling extensively throughout Europe as she then attended the Riga Itas Kozakevica Polish Secondary School. For a short period as a teen she also attended St. Patricks College in Banbridge, Northern Ireland. In 2010 she completed her Leaving Certificate at St. Nessan's Community College in Limerick.
As a member of a multicultural family, with Mongolian ancestry, she considers herself to be a citizen of the world and is fluent in Latvian, Polish, Russian and English. After completing her BA Honours Fine Art degree at CIT Crawford College of Art and Design in 2018, she has since moved to Belfast and is currently pursuing the final year of her MFA studies at Belfast School of Art, Ulster University.
ARTWORKS BY
Katrīna Tračuma
The prevailing theme in the work is human-kinds estrangement from nature, as viewed through the lens of our relationships with other species. Having a multidisciplinary practice – grounded in painting, drawing, and printmaking – attention is called to urgent matters of our natural environment. Through the use of bold brush strokes, balanced with intricate details in a language of symbolic imagery and metaphors, bright pigments are utilised along with striking colour combinations. Staying true to an ethical environmental responsibility is an important aspect of the art making process.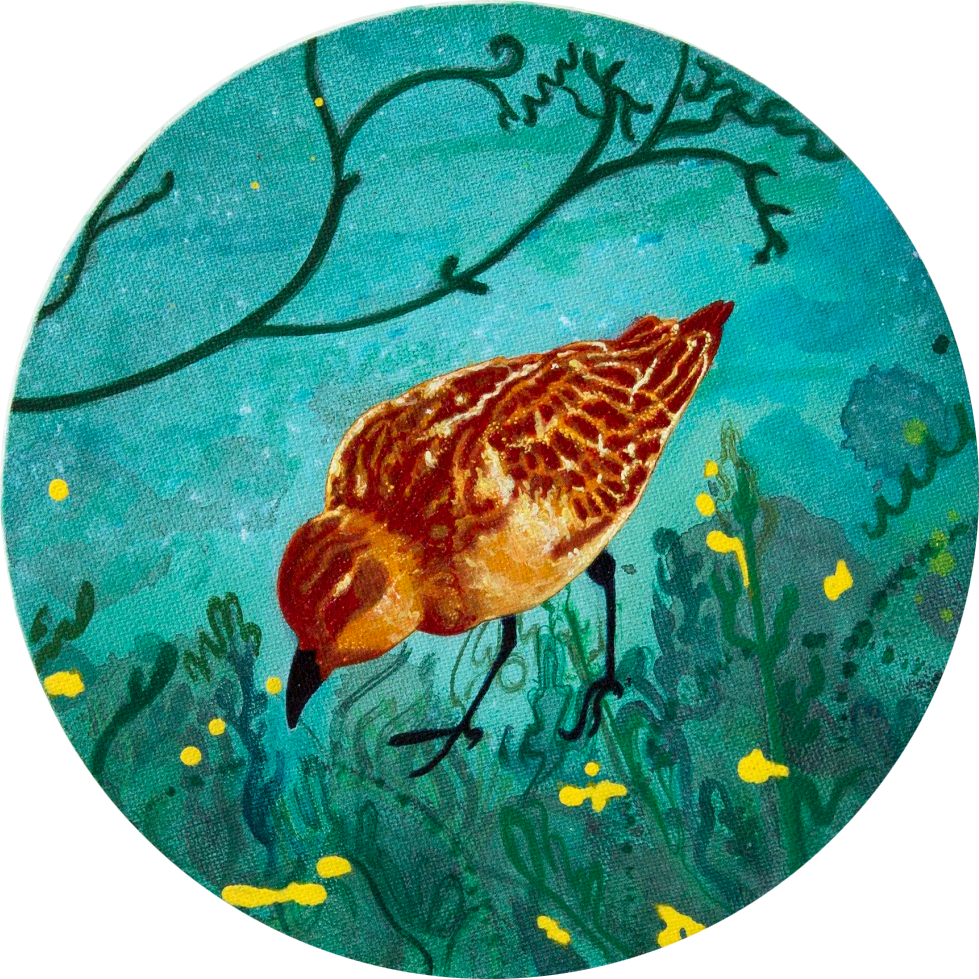 Above: 'Little Stint'
Acrylic, ink and oil on canvas, 2019
More recent developments in the art making process include embracing new technology advancements and other more contemporary modes of creating. Thus, Procreate digital painting on an iPad, video art, and live performance are becoming a part of the practice. An ever pressing urgency to communicate the dire ecological devastation that humanity is facing has also meant that there is a complete abstinence from using virgin materials. Found objects and plastic trash are transformed in inventive ways through a process termed plork: a combination of play and work.
Research includes material on our current epoch of the anthropocene, animal rights literature, and a variety of scientific journals and texts concerning zoology, biology and the psychology of compassion. Within the context of art history, emphasis is placed on the process cantered practice of Robert Rauschenberg who embraced play with materiality and the use of found objects in his work. The work of animalière Rosa Bonheur – through skilful painting and realist sculpture – inspires to place utmost importance on sustaining a daily art practice, to continuously develop authentic observational drawing skills.
2021: MFA at Belfast School of Art, UU.
---
2018: CIT Crawford College of Art and Design – Fine Art Honours Bachelors degree
---
2014: St. John's Central College, Cork – FETAC Level 5 in Art, Craft & Design.
Perceptions 2016: The Art of Citizenship at Crawford Art Gallery in Cork, IE
Queeriosity at The Crescent Arts Centre in Belfast, NI 2017
Impact 10 – ENCOUNTER, International Printmaking Conference in Santander, ESP 2018
Present Perfect Continuous at Zverev Center of Contemporary Art in Moscow, RU 2018
PRINT.ed #5. Singular publications fair at EINA University Center for Design and Art of Barcelona, ESP 2019
Wildlife Artist of the Year by David Shepherd Wildlife Foundation at Mall Galleries, The Mall, London, UK 2019
For Earth's Sake, In-spire Galerie in Dublin, IE 2019
AUTUMN 2019. COLOURFUL WALL. GENERATIONS. – The Artists' Union of Latvia annual visual arts exhibition, LMS Gallery in Riga, LV 2019
Drawn From Borders, Virtual Exhibition, Artlink at Fort Dunree, IE 2020.
Residencies/Representation
As a professional member of Visual Artists Ireland, Katrīna's work is in many private and public collections worldwide and she has exhibited extensively throughout Europe.
Backwater Studios Residency 2019.
Awarded the Visual Arts Award at the Galway Fringe Festival in 2018
Katrīna is also a recipient of the Backwater Studios Graduate Residency Award
The Joan Clancy Gallery prize for her 2018 BA Honours degree show work
In 2019 she was also shortlisted for the Wildlife Artist of The Year prize, by David Shepherd Wildlife Foundation.